Regular price
Sale price
$19.95 USD
Unit price
per
Sale
SOLD OUT
4 fl oz (118ml)
About This Item
REPELS MOSQUITOES UP TO 6 HOURS! - Grandpa Gus's® Mosquito Repellent Spray is new and improved to repel mosquitoes longer than other natural product players. Enjoy the outdoors up to 3 times longer without having to reapply!
LONGER LASTING FORMULA! Our unique, natural formula was crafted to steadily release its plant-based actives over time for so you can enjoy hours of activities before needing to reapply.
PLANT-BASED REPELLENT: The active essential oils Geraniol, Lemongrass, and Peppermint come together to naturally repel pesky mosquitoes. These natural plant oils have been repelling bugs for ages and work together for highly effective results.
SAFE FOR THE WHOLE FAMILY: Grandpa Gus's® Mosquito Repellent Spray is dermatologist-tested and non-irritating. It is pleasant on the skin with a fresh scent, DEET Free, non-greasy feel and won't stain fabric and gear. Made in the USA.
ENJOY THE OUTDOORS MOSQUITO-FREE: Grandpa Gus set out to create new formulas that really work, are simple and safe for the family to use no matter how mosquito-prone so you can enjoy the outdoors, worry free!
View full details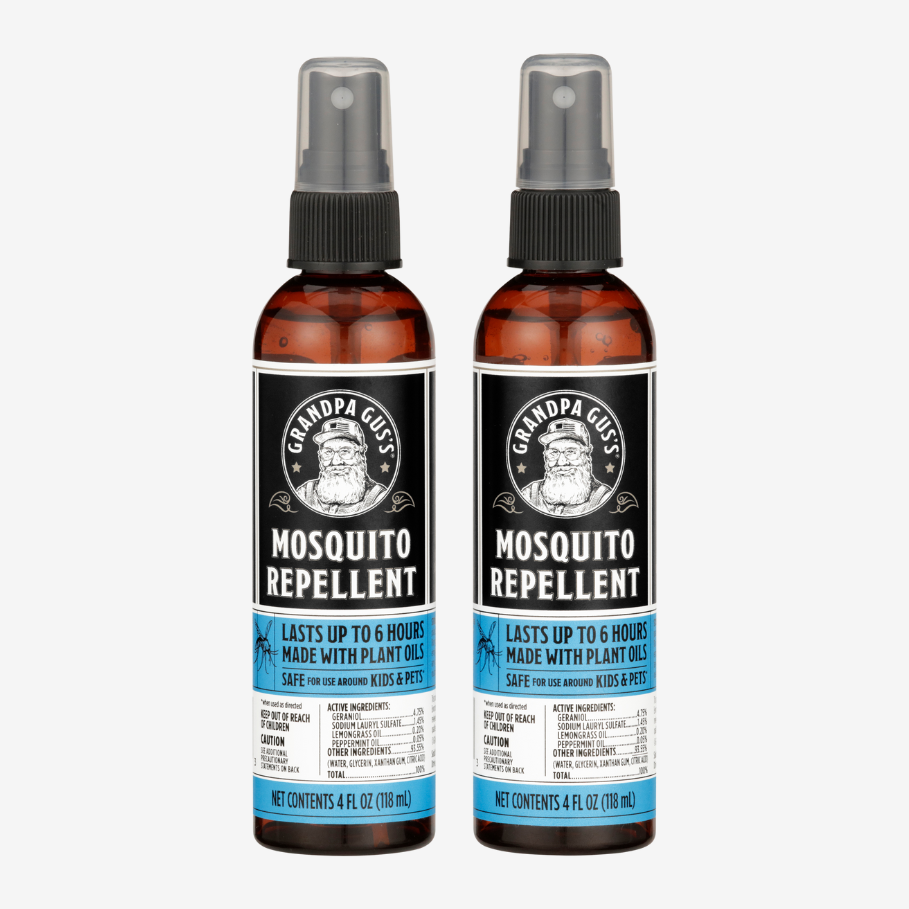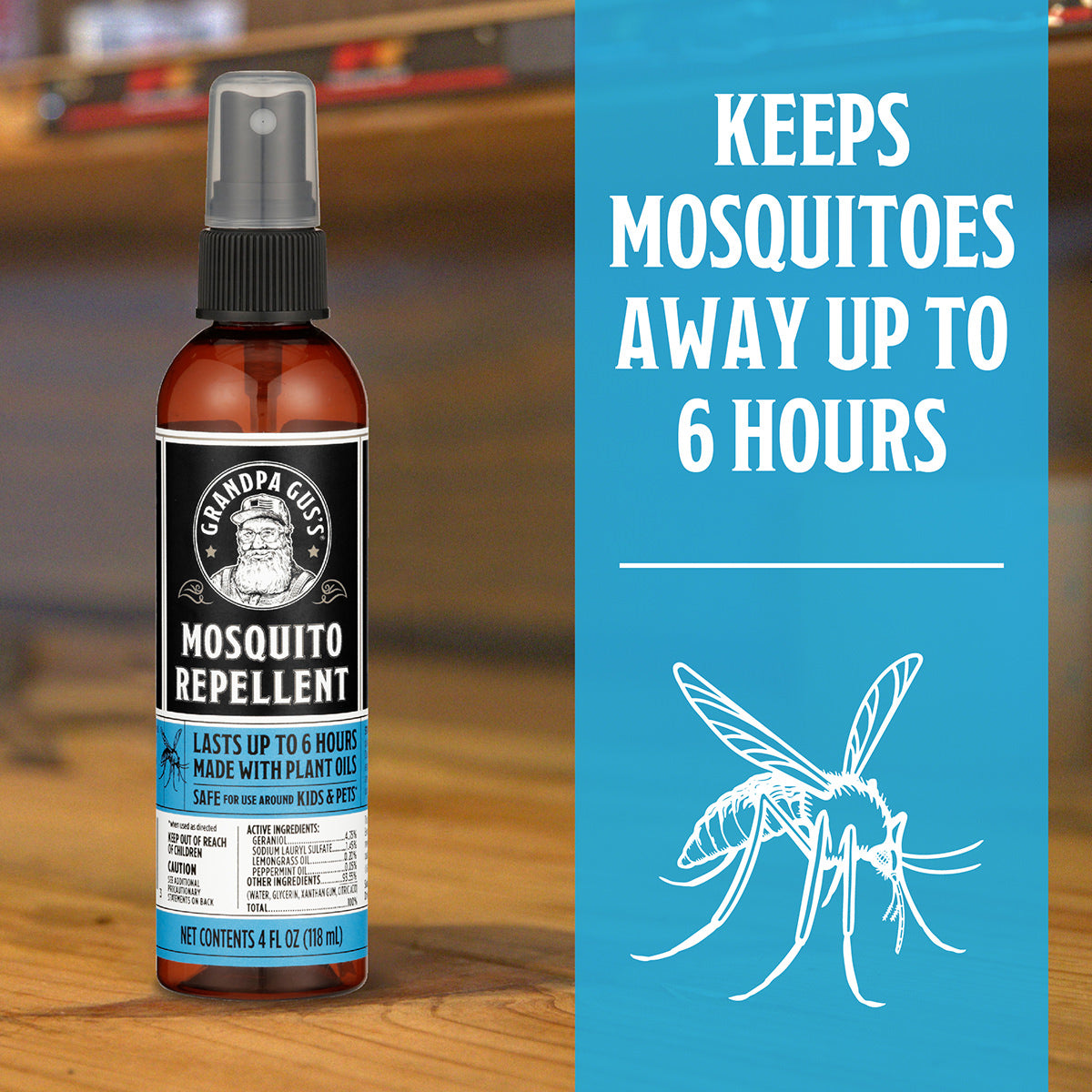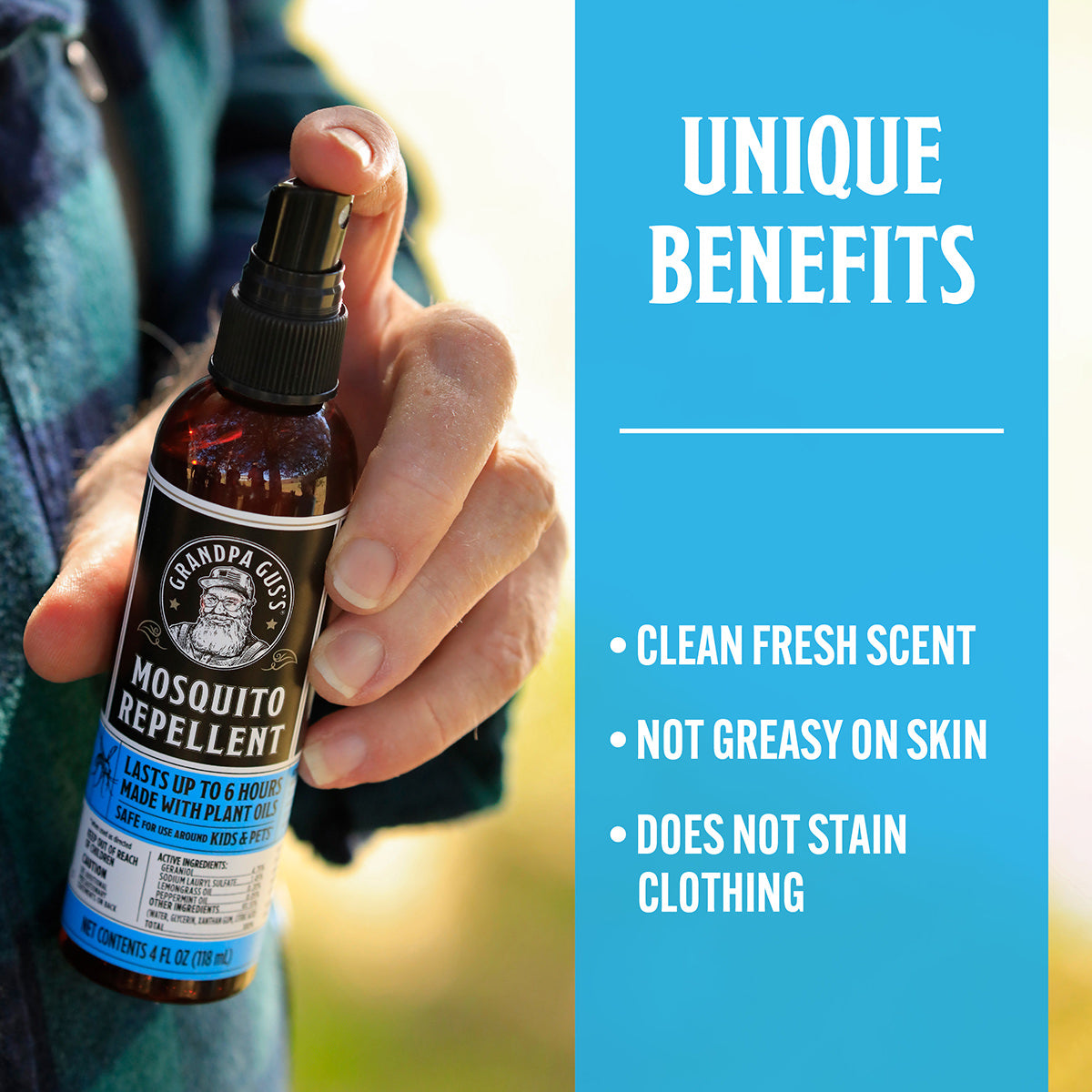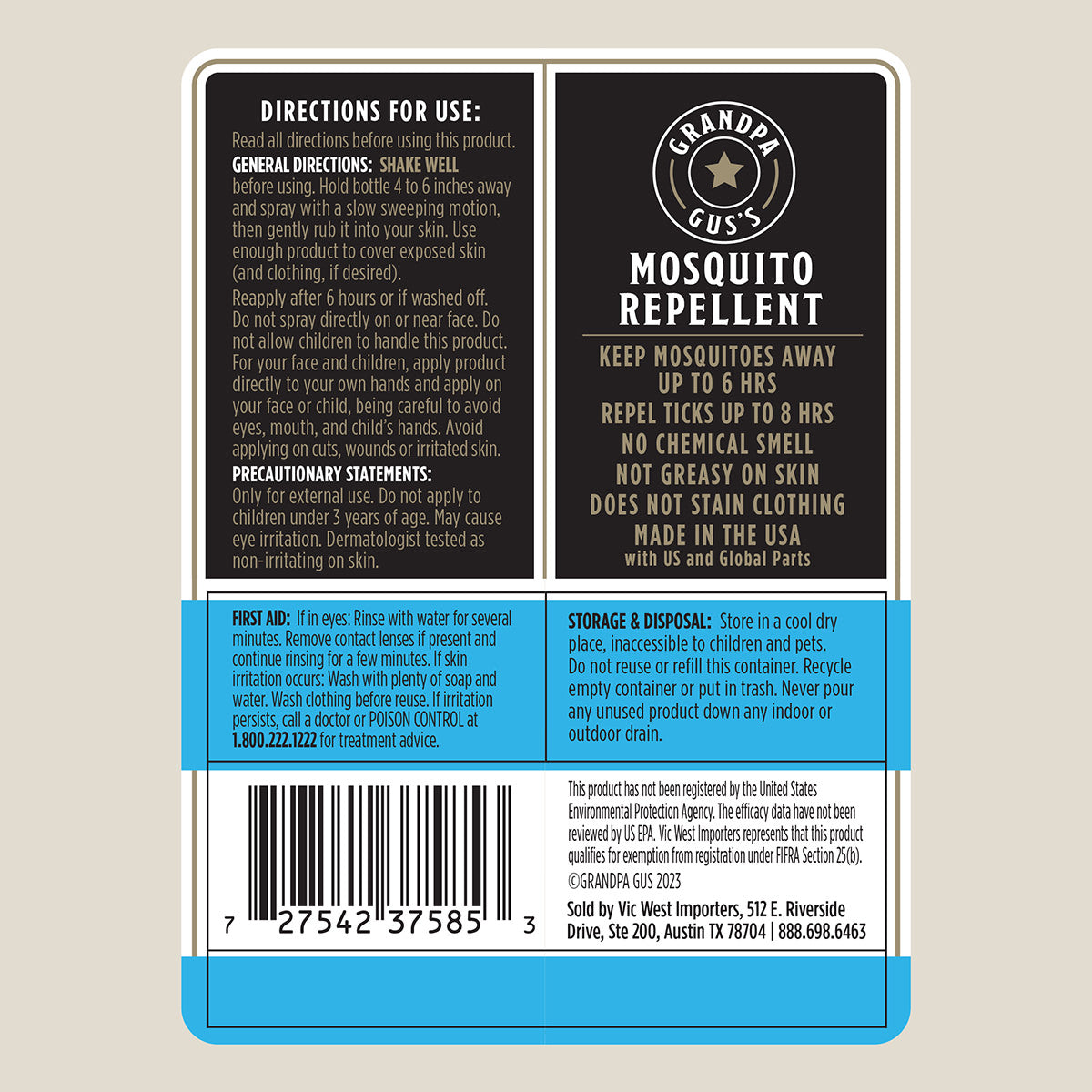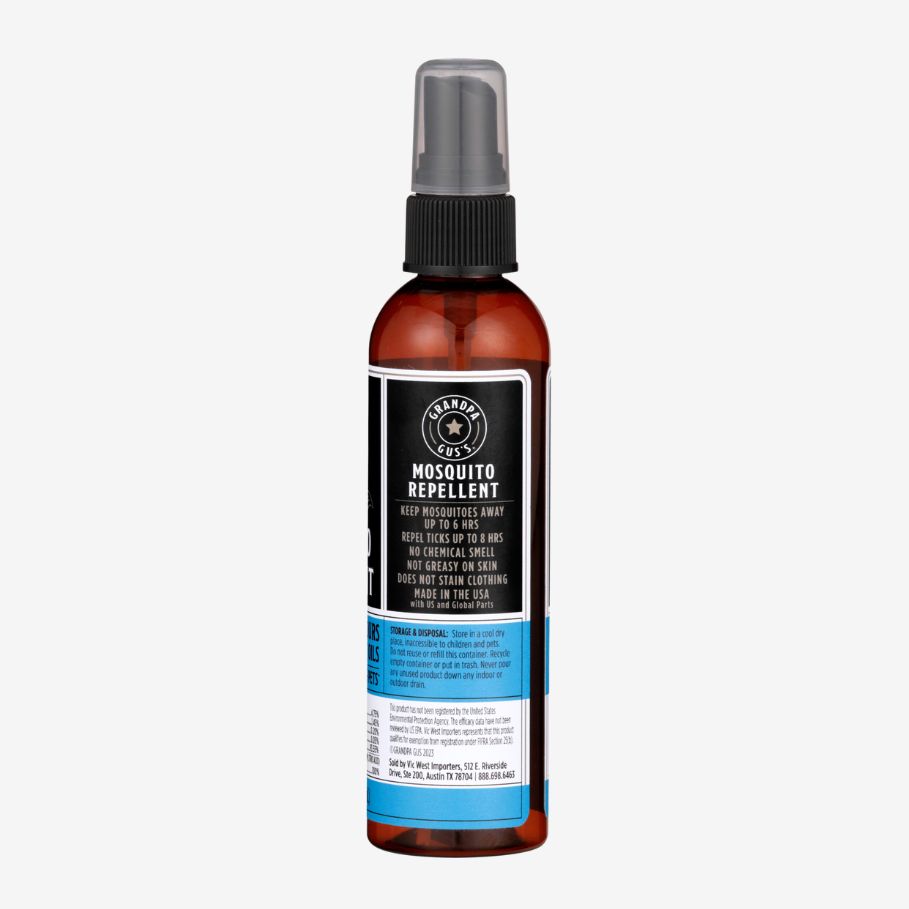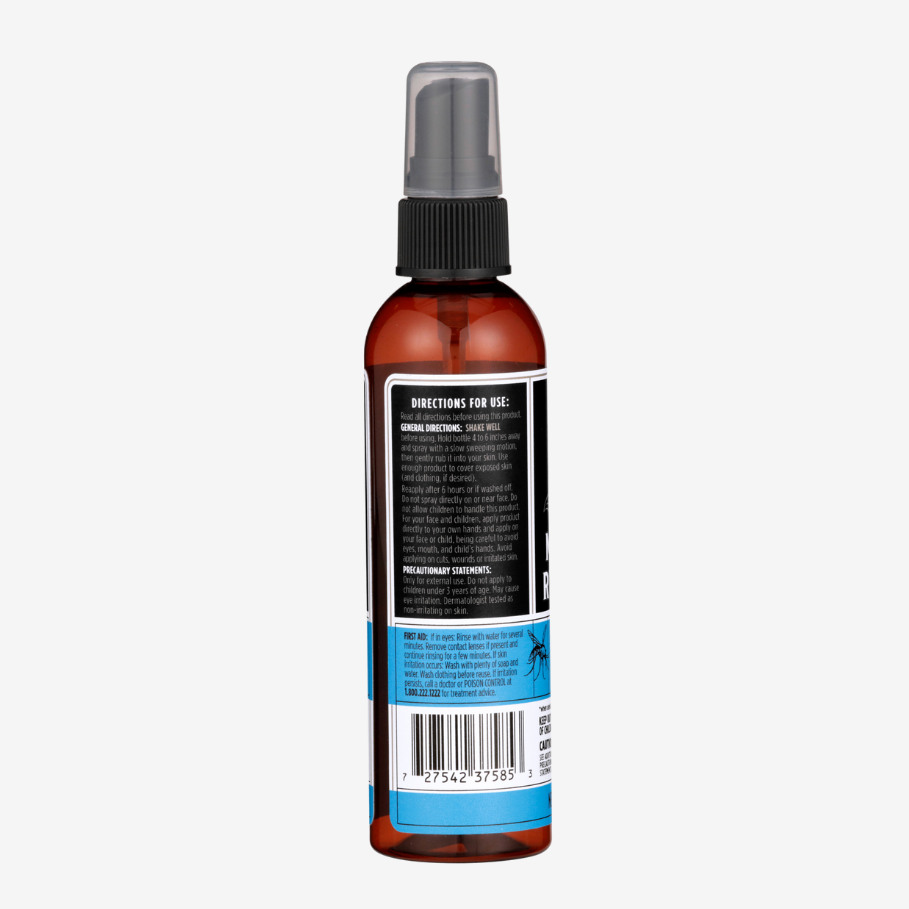 Mosquito Repellent Spray (2 Pack)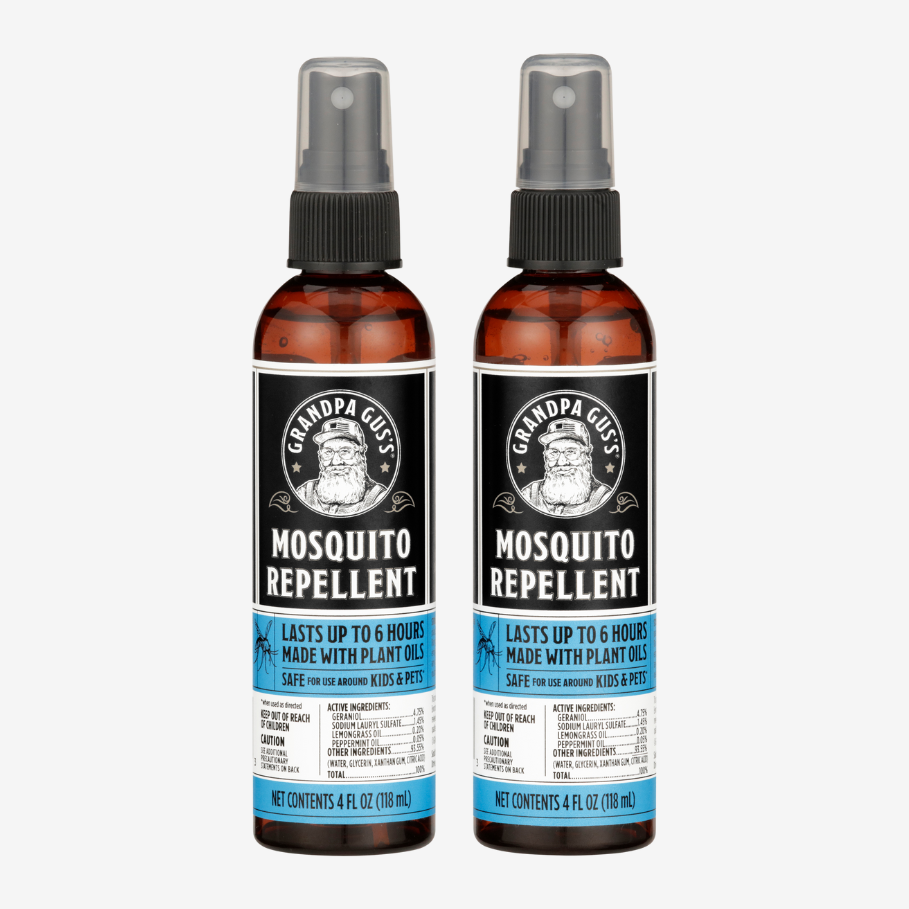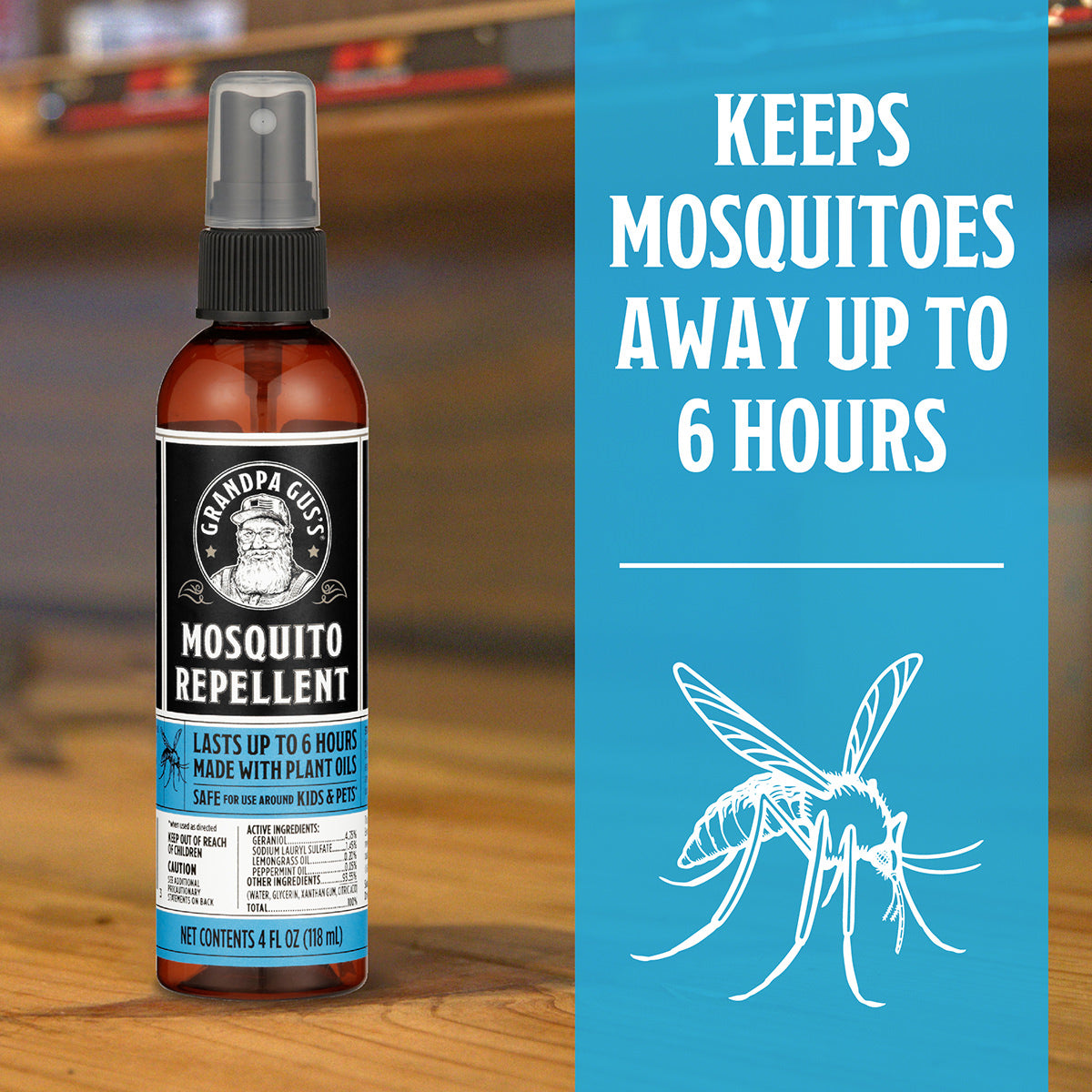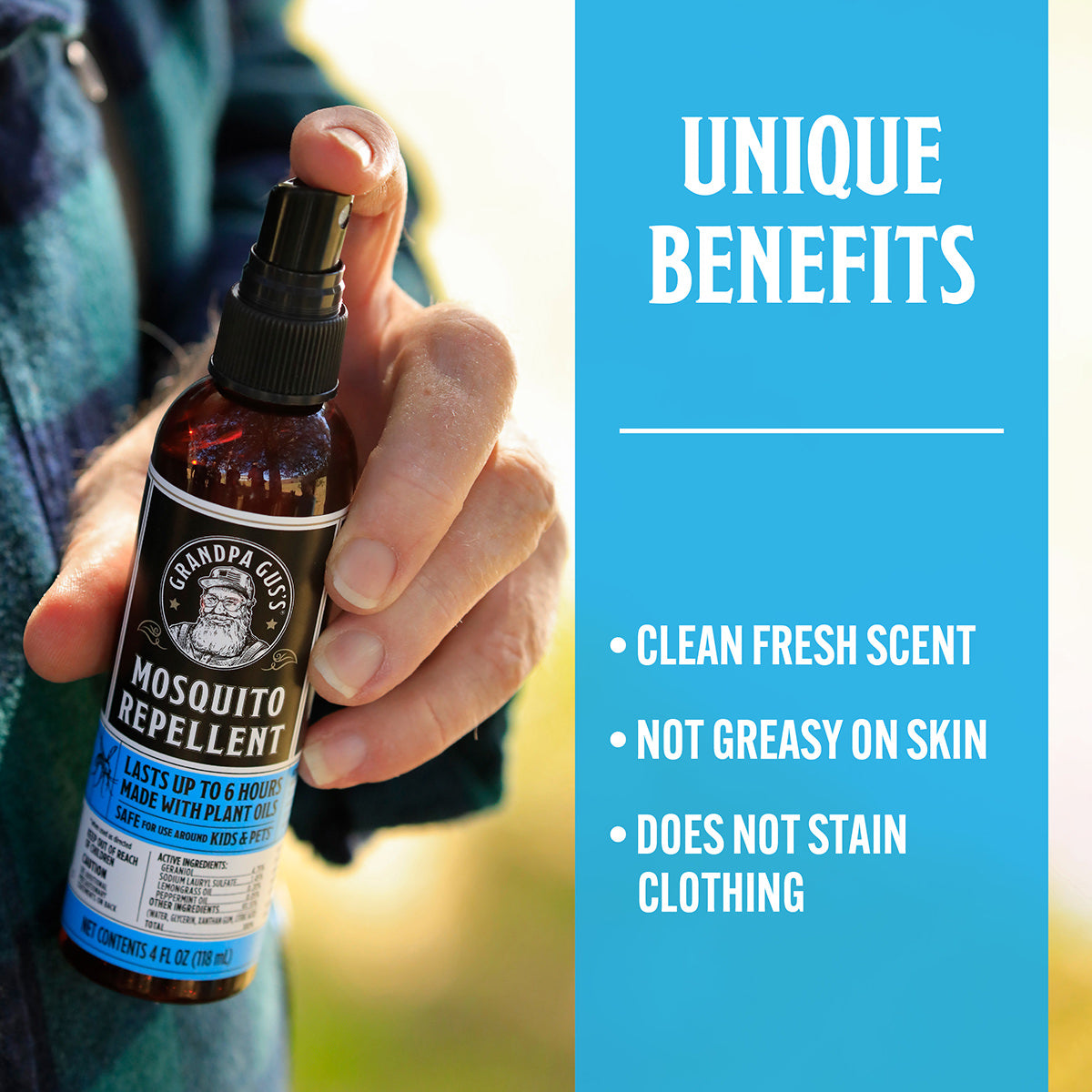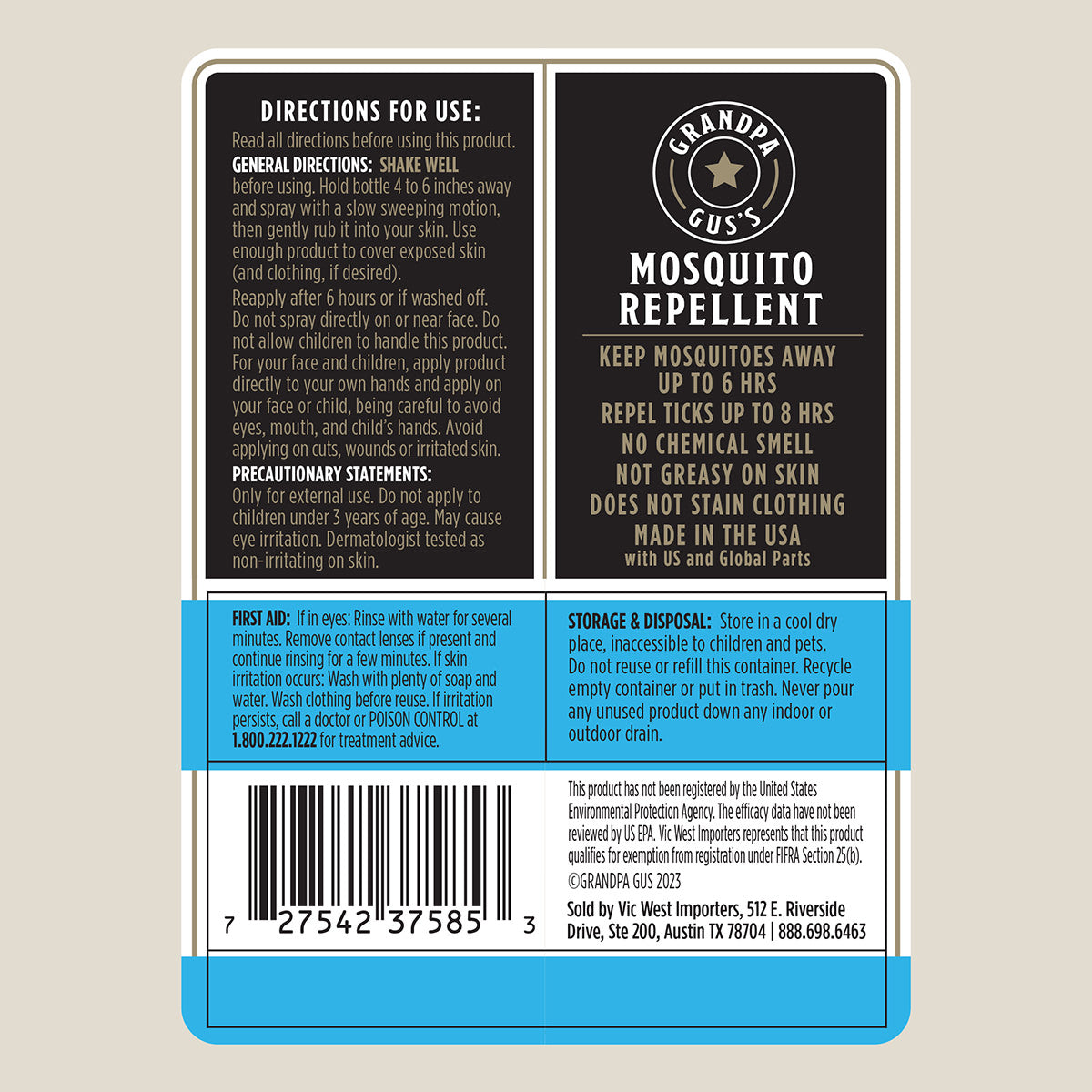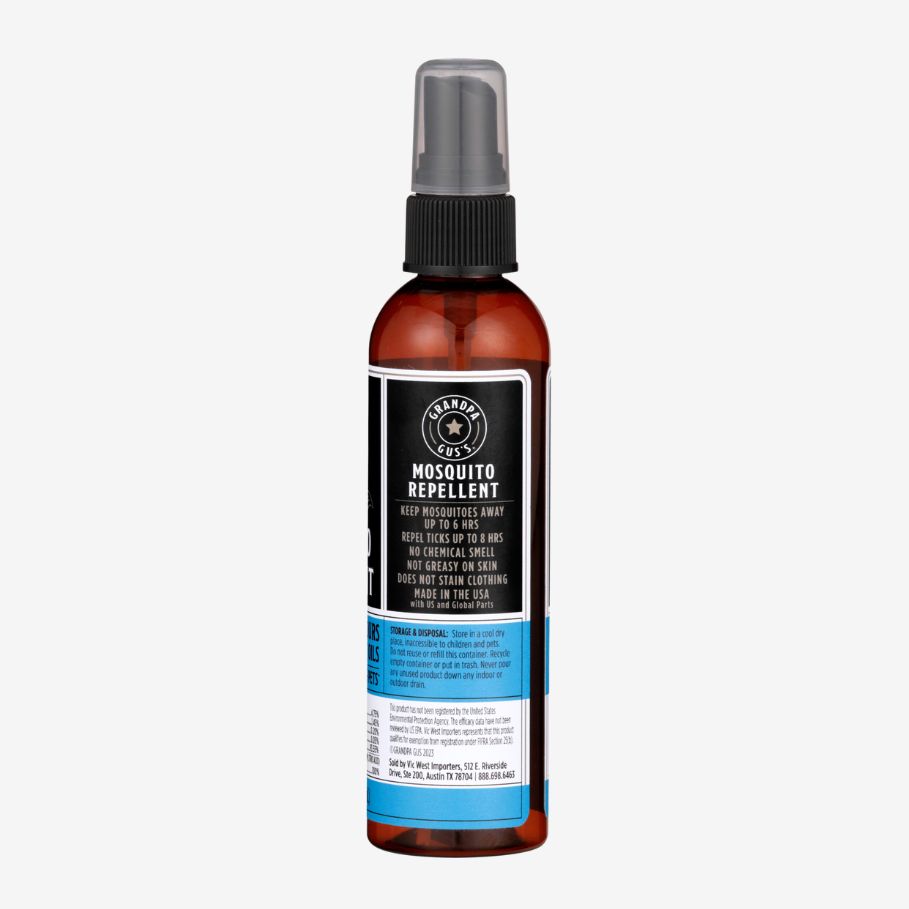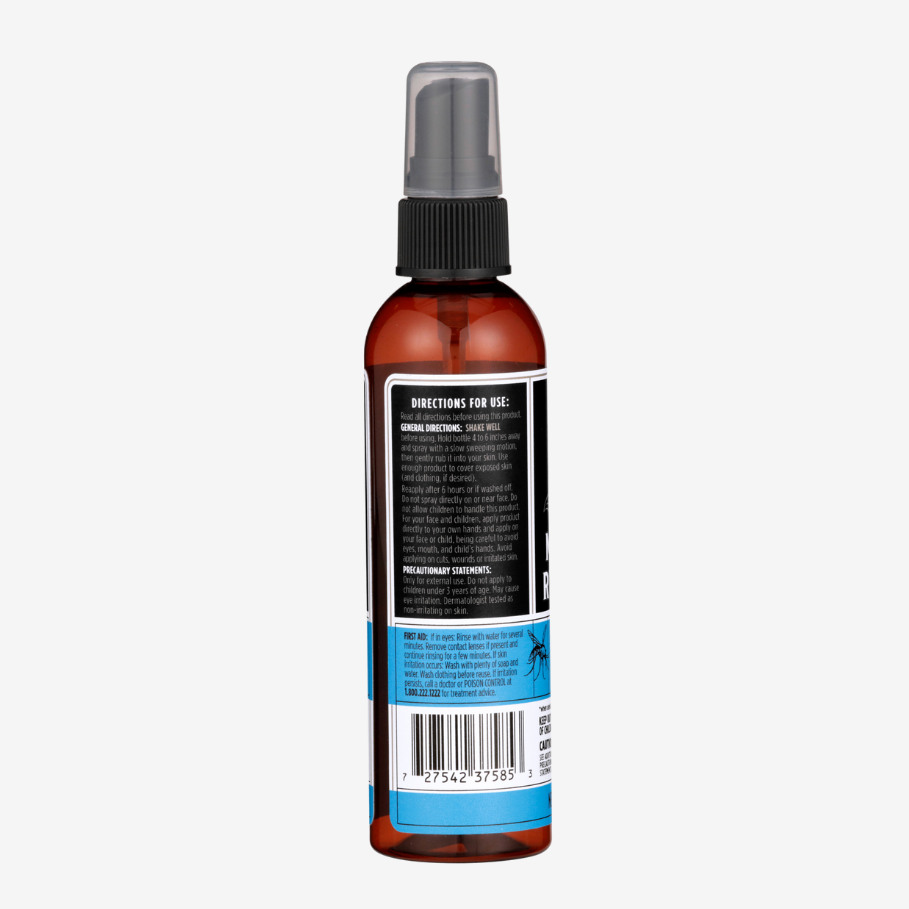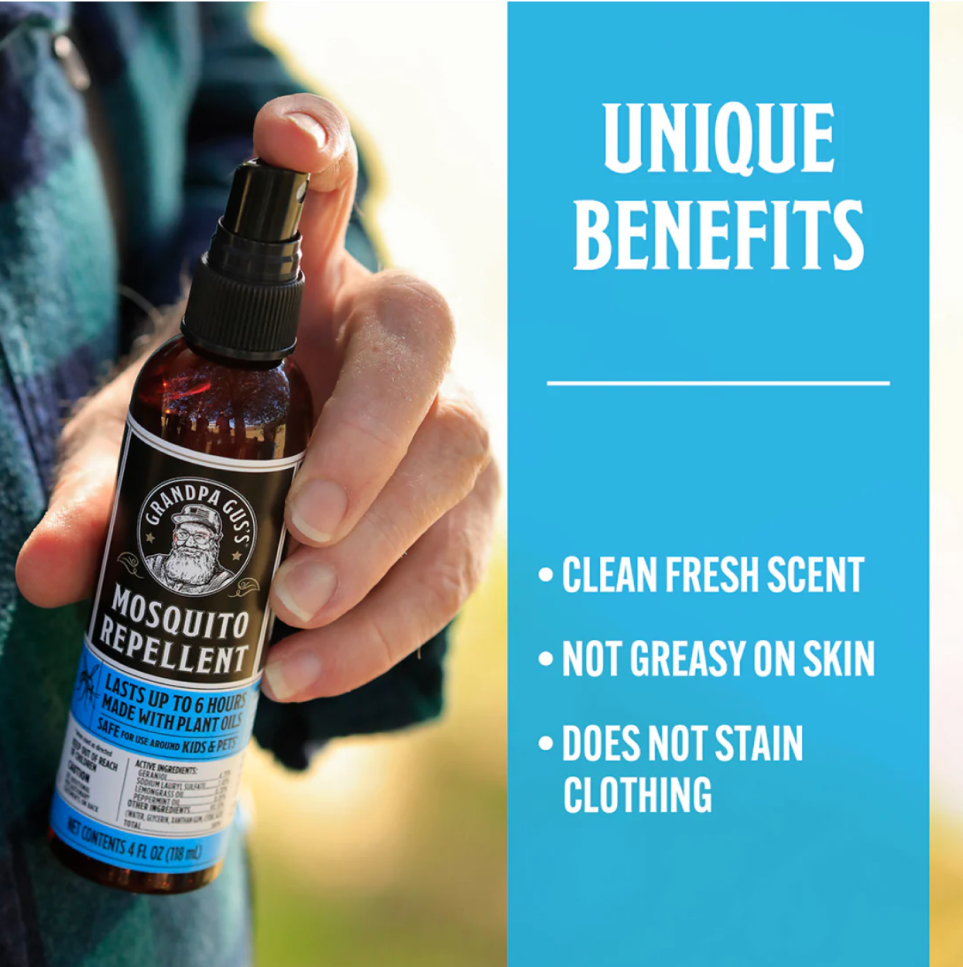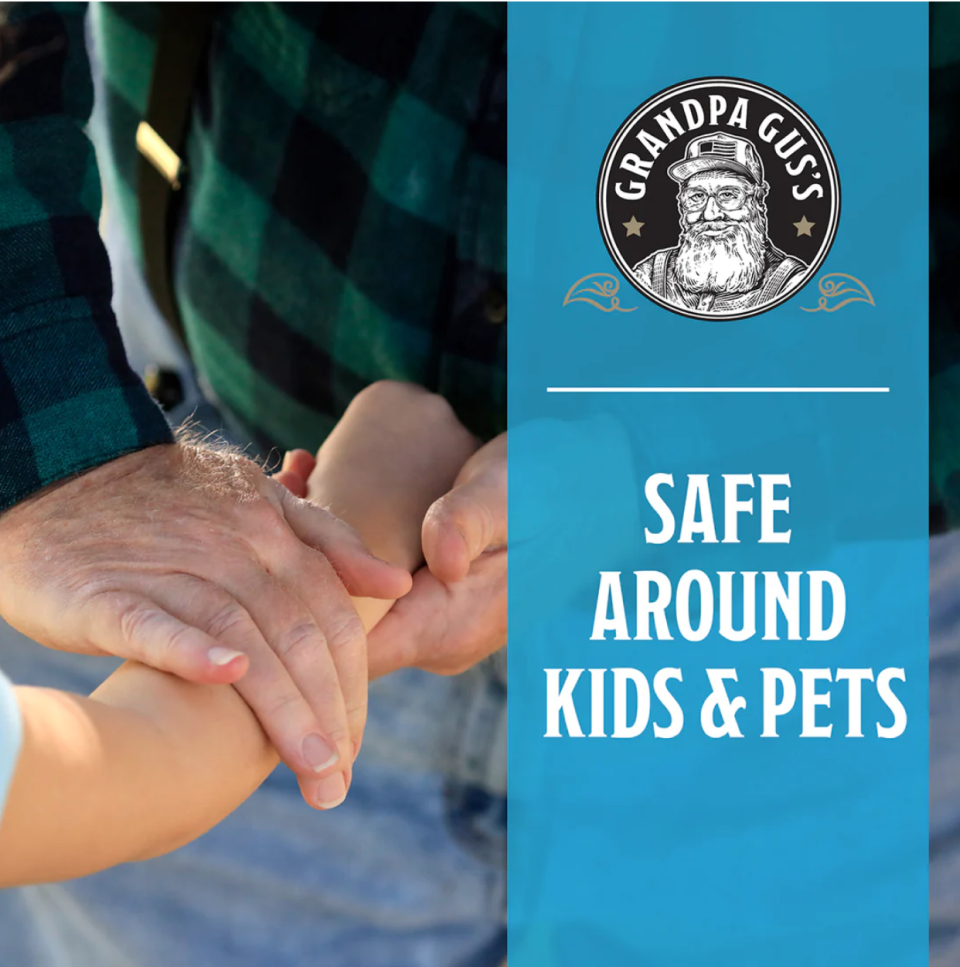 Frequently Asked Questions
How does this product work?
Grandpa Gus's Mosquito Repellent Spray is powered by plant-based essential oils. The main workhorses are Geraniol and Lemongrass Oil that work together for the most effective performance. These carefully balanced essential oils target the mosquitoes' olfactory systems to repel them.
How do I use this product?
What are the active ingredients?
What bugs does your product work on?
Where can I use the product?
Is this product safe to use on kids? (Repellents) Is this product safe or y=use around kids? (all other products)
Is this product safe to use on pets or plants?
Can I use this product on my face?
What does "when used as directed" mean?
Frequently Asked Questions
Is this product made in the USA? 

Yes! All of Grandpa Gus's products are made and shipped right here in the USA.
How long will it take to receive my order? 

We ship all orders the following business day after your order is placed. You will receive a confirmation email with tracking information once your order is shipped. Most orders will arrive within 3-5 business days.
Does this product contain chemicals or pesticides? 

Absolutely not! Our products contain no chemicals or pesticides and smell wonderful!
What ingredients are in this product? What makes it work? 

The active ingredient in this product is plant oils. The combination we've chosen - peppermint and cinnamon - smell great to us, but mice dislike them.
Grandpa Gus's Mosquito Repellent Spray
Grandpa Gus's Mosquito Repellent Spray Repels Up to 6 hours!
Folks Love Grandpa Gus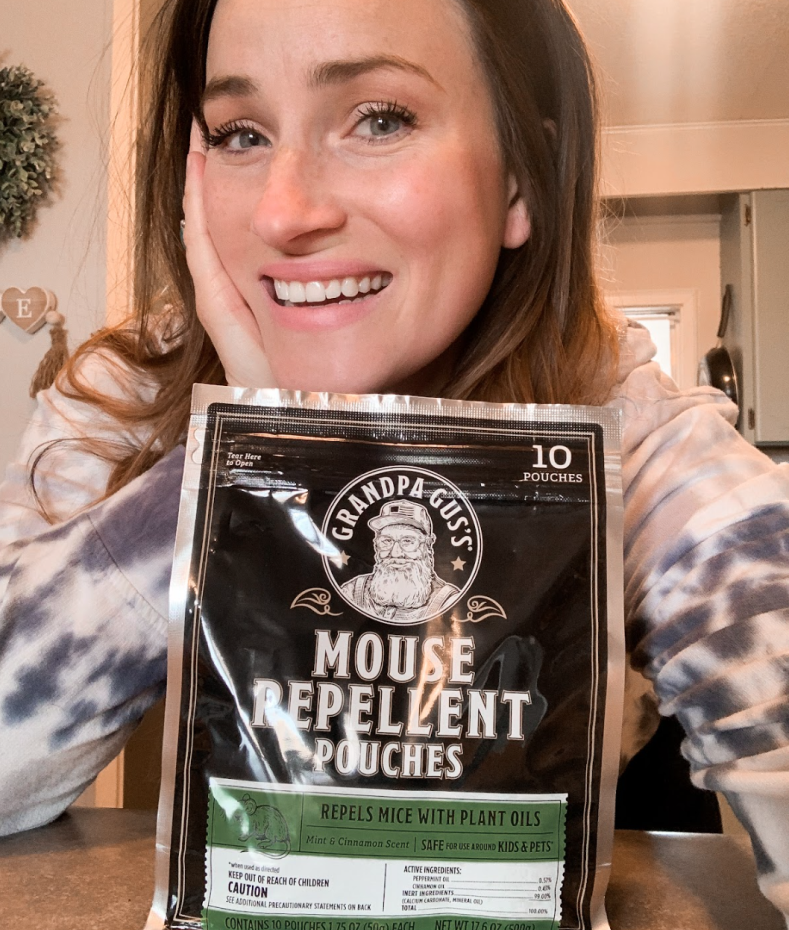 "So easy to use, completely safe to use around kids and pets. And there's no snappy of traps!"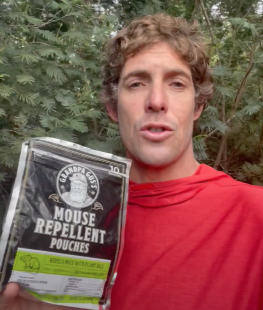 "It's super easy, it's really simple. It's one less thing we gotta worry about so we can get back to things like chasing our kids around."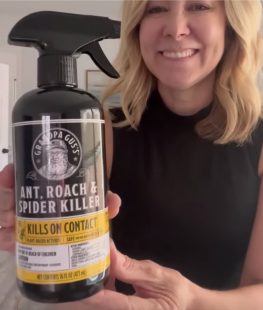 "I love that it contains a quick kill formula and is made in the USA. We love this product so much that we place it in all of our AirBnBs."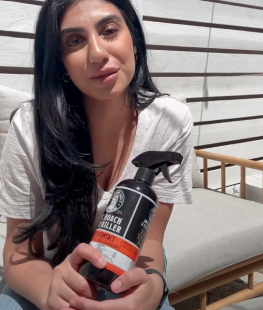 "I love that it has simple and natural ingredients with plant based actives that allows you to feel comfortable spraying it inside your home."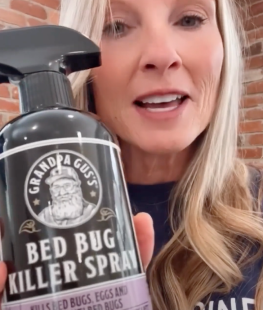 "It's very pleasant. I'm a big fan of nice smelling bedrooms. So I would recommend this for any AirBnB host, for sure."